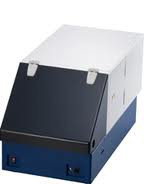 Zeta Potential Analyzer
Zeta Potential Analyzer: ZEECOM
Zeta potential and particle size measurements with real time observation!
Zeta potential measurement in microscopic electrophoresis
Particle identification and automatic tracking in image processing
Direct observation of nanopaticles by scattered light
Automatic Tracking of Particles by Image Analysis Processing
Direct observation of nano particles using scattered light.
The captured still images are saved every second,
which enable the remeasurements.
Application Fields
Environment
Water treatment, waterworks, flocculation agents, dispersants, flocculation control, microorganisms, planktons, asbestos, bubbles, soil, beneficiation technology, and etc.
Nano-materials
Functional material developmentArecording materials, pigments, ceramics, catalytic agents, polymers, carbon black, carbon nanotubes, inkjet inks, aqueous/non-aqueous solvent paints, fuel cells, coating materials (for automobile parts / electronic parts), paper manufacturing, surface active agents, and etc.
Life Science
Erythrocyte, biological cells, protein, DDS, liposome, vesicle, drug discovery, and etc.
Features
Zeta Potential Measurement
Microscopic electrophoresis method
Automatic tracking in image processing
Visual and manual measurement of individual particles
Particle Size Distribution Measurement
Particle size distribution measurement can be added as optional function.
Unlike zeta potential measurement, particle size measurement is performed without applying the voltage.
The Brownian motion of individual particle is tracked.
Particle size is calculated from the Einstein-Stokes formula.

*Measurement items
histogram / frequency curve / average value / peak value / dispersion / temporal change (change with the passage of time)
Image capture of particles
Image archive / Remeasurement function
PC-controlled instrument
Stage control / Voltage feedback control / Switching control for optical system
Analysis modes
Mobility / histogram / frequency curve / mean value / peak value / dispersion / flow velocity distribution / pH responsiveness / isoelectric point / digitization size and zeta potential / temporal change
Specifications
Product model
ZEECOM ZC-3000
Zeta potential measurement range
-200 to 200 mV
Mobility
-20 to 20 cm2/sec⋅V
Particle size range for zeta potential measurement
0.02 - 100 µm
(Measurable size changes depending on the particle property and medium.)
Particle size range for particle size distribution measurement
0.1 - 1 µm 
(Measurable size changes depending on the particle property and medium.)
Supply voltage
0 to 350V DC *Applicable voltage to electrodes (compatible with external power supply)
Weight
25 kg
Power supply
AC100V 1A 50/60 Hz