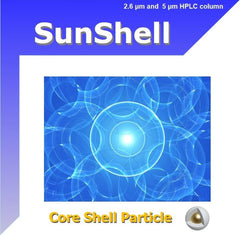 SunShell by Chromanik HPLC Column (Coreshell Particle)
Your North American Source for Sunshell HPLC Columns.
Features of Sunshell HPLC Include:
1.6 um od core and 0.5 um of superficially porous silica

Core Shell particle bonded with polyfunctional C18 (SunShell C18)

Showed two times higher retention factor than other main coreshell competitors.

SunShell C18 had 7 to 100 times higher loading capacity of amitriplytine than the other core shell C 18's.

SunShell C18 is stable under acidic and basic conditions compared with other core shell C18's

Showed less bleeding under a typical LC/MS conditions.

 High stability – pH range for SunShell® C18 is 1.5 to 10.

More SunShell columns will be introduced within the next couple of months, such as SunShell® Hilic Amide,

SunShell RP Guard Filter is recommended as a guard column for any reversed phase.