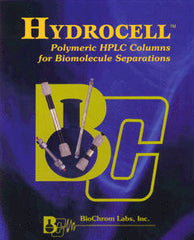 Strong Anion Exchanger: QA 1500 and QA 3000
QA 1500 and QA 3000 are quaternary amine anion exchanger designed for the rapid separation of proteins and enzymes. The rigid macroporous PS-DVB matrix with a hydrophilic surface has been bonded with the polymer chains of diethylmethylaminoethyl groups to provide the optimum density of strong anion exchange functionalities for macromolecule separations.
The media are compatible with aqueous solvents in the pH range of 1 to 14 and with most organic solvents. They provide a mild, nondenaturing adsorbent from which proteins can be eluted with buffers of moderate ionic strength (< 0.5M NaCl) in 15 minutes at a flow rate of 1.0 mL/minute. HYDROCELL anion exchangers are very hydrophilic, proteins with pI close to or above the mobile phase pH will not be retained under these conditions.