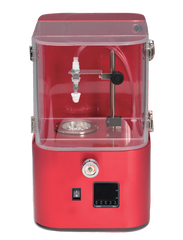 Smart Evaporator
Use Turbo Vortex Airflow to concentrate your samples.
The Smart Evaporator works by generating a spiral air flow as a vacuum pump pulls gas into the sample vessel.  The air vortex stirs the entire sample without needing a stir bar. The results in an increase of the liquid surface area and accelerated the evaporation process.
Benefits:
Perfect for small volume samples
Avoid sample loss during container transfer
Low "bumping" risk because not under vacuum
Compact size easily fits in a glovebox
Works with a large variety of containers
Consistent timed concentration
Faster setup than rotary evaporators
Applications:
Organic chemistry
Materials science
Natural chemistry
Pharmacokinetics
Food analysis
Environmental chemistry
Radiochemistry
Search for lead compounds
Suitable for the pretreatment of samples HPLC, LC/MS, LC-MS/MS
Solvent removal after NMR
For concentrating samples after fractionation and purification
Product Specifications:
Product name: Smart Evaporator
Product code: SEV-[Color]
Outer size: W220mm x L270mm x H389mm
Weight: 8.5kg
Material: Body/ A5052, SUS304, PC, PFA, THV
Concplug Unit/ PTFE, PFA, THV, PA
Number of sample: One
Heating control temperaature: From room temperature to 100℃
*A product includes Body, 4 sizes of Concplug Sets.