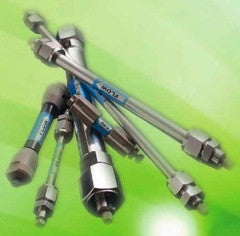 Protex DEAE
MCI GEL ProtEx-DEAE
HPLC Columns for Protein Separation
MCI GEL ProtEx-DEAE has been developed for anion-exchange HPLC separation of proteins.  Base material of ProtEx-DEAE is designed for high resolution and quantitative recovery of proteins. It consists of 5-micron monodispersed, porous polymethacrylate particles. 
The surface of the base material is completely covered with hydrophilic layer which is chemically stable, and diethylaminoethyl anion-exchange functionality is covalently bonded to the hydrophilic layer.  The structure of ProtEx-DEAE enables the anion-exchange functionality to work more effectively than those of conventional base materials, and non-specific adsorption of proteins is totally eliminated.  
MCI GEL ProtEx-DEAE provides high separation efficiency, so it would be applicable for the separation of proteins of small structural differences, ex. isoforms. 
Proteins of small amount can be quantitatively recovered, thus ProtEx-DEAE is suitable for the micropurification of proteins.