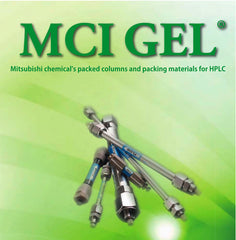 Mitsubishi Ion Exchange Resins Catalog
DIAION products are high quality ion-exchange resins, chelating resins, and synthetic adsorbents produced by Mitsubishi Chemical Corporation and its subsidiary producers. According to Mitsubishi Chemical's experience in ion exchange resin manufacture of over sixty years, DIAION resins are produced under strict quality control and have excellent properties for various applications. The ion exchange resins are spherical and offered in many particle sizes, from 3

m

m to 1 mm in diameter. They are mainly based on styrenic and acrylic backbone with various porosity.