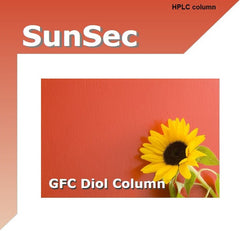 Aqueous SEC (GFC) Diol Binding Silica Column
Aqueous SEC (GFC) Diol Binding Silica Column 
Column Features:
4um Diol Silica Silica High packed column is 1.5 times higher theoretical plate number (32,000 plate number).
In comparison with a conventional ID 7.8 mm column, the Chromanik ID 4.6mm Length 300 mm Semi-micron sized packed column, has 3 times the sensitivity and uses 1/3 less solvent.
High durability allowing for at least 500 sample injections
Employs 2 types of Silica Gel pore sizes of 30nm and 15 nm.
Applications:  Proteins, enzymes, peptides, sugars, and nucleic acids
SunSec Diol 30 has a pore diameter of 30nm.  Compared to other company's   25 nm pore diameter SunSec Diol 30 has double the molecular weight exclusion limit.  This has advantages for separation of dimer /trimer monoclonal antibodies.
Product Summary:
Application: SEC rapid analysis of proteins
Filler – substrate: the surface of porous silica coated with a hydrophilic compound containing a hydroxyl group
Particle size: 4μm
Pore Diameter: 15 nm, 30 nm, 60 nm
Globular protein fractionation range: 3,000 – 200,000 (15 nm), 10,000 – 1,000,000 (30 nm)
Column Material: Stainless Steal
Column Dimension: 300 X 4.6 mm I.D.
Usage (Analyzing General Proteins)
Device for Liquid Chromatography:  Minimize Sample Injection and Detector piping and detector cell volume HPLC  System.
Eluent: 0.1 – 0.3 M 20 containing salts of – 100 mM buffer (pH 6.0 – 7.5) (pH of less than 7.5 )
Cases) 50 mM phosphate buffer (pH 6.8) + 0.3 M NaCl
Purification of eluent: 0.2 – 0.5 μm membrane filter or inline filter is preferable to work with liquid chromatography system.
Flow Rate: 0.20 – 0.35 mL/min ( less than 0.5 mL/min )
Sample Injection Volume: Less Than 10 mL (Solution Volume), Less  Than 100 mg (Total Weight of Protein)
Detection: UV at 210 – 220 nm or 280 nm
Temperature: 25 º C (less than 30 º C )